New Hampshire legislators hope buzzwords like "education," "mental health" will push sports betting legalization over the finish line.
N.H. Gov. Chris Sununu has already voiced support for legal sports betting.
The New Hampshire Lottery would administer and oversee sports wagering in the state.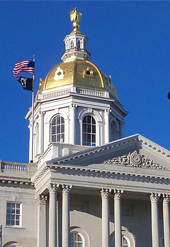 CONCORD, N.H. – Every state that has been considering sports betting legalization has taken a slightly different tack to get its measure(s) passed. New Hampshire legislators hope "education" and "mental health" initiatives will be enough to get legal sports wagering passed into law.
These talking points have led to the House passage of HB 480 by a vote of 269-82. The bill now moves on to the State Senate.
Money For Education?
Education initiatives are typically hyped hard when it comes to legislation concerning various "vices" and their legalization prospects. State-run lotteries, like the New Hampshire Lottery (which would oversee the new sports betting industry), often advertise their education-focused revenue models.
In New Hampshire, roughly 25 percent of every dollar spent on the state lottery's products goes towards education. Since 1964, the lottery has contributed over $2 billion to New Hampshire schools.
That sounds like a lot, but according to Executive Councilor Andru Volinsky (a member of the five-seat Executive Council that oversees the executive branch of the state government), it's really not.
"The lottery is a sham. It's not nothing, 2.5 percent, but the commercials will lead you to believe all of our education expenses are taken care of by the lottery. That is deliberately intended to deceive the public."
By the numbers, New Hampshire allots roughly $2.6 billion in its annual budget for education. The lottery set an all-time revenue record last year, but this accounted for just $86.5 million in offsets for education expenses. This amounts to 3.3 percent, which is higher than Volinsky's estimate but still far too low to account for much practical support.
Given that sports betting is predicted to garner just $7.5 million for education by 2021, it is clear that the numbers do not align with the specific "education" ideals promoted by pro-betting advocates.
Mental Health Concerns
According to the Concord Monitor, one of the main oppositional platforms of the proposal is that "legalization will increase the likelihood of more Granite Staters becoming addicted to gambling and add to the workload faced by mental health workers."
In response to this, those pushing to legalize sports betting in New Hampshire have similarly focused on the "mental health" angle. Attorney and sports betting expert Daniel Wallach calls the state a "pacesetter" for the industry regarding problem gambling assistance.
"Not that many other states mandate a percentage of tax revenues to go to help problem gamblers," said Wallach. "I don't believe some states have done nearly enough to ensure that proceeds – cash money – be directed into programs under state law."
Per SeacoastOnline, Rep. Richard Ames (D-Jaffrey) follows Wallach's lead.
"Too many people participating now in legal and illegal gambling activities have been badly hurt by it. Establishing this new [program] means that we are at last going to get serious about this destructive addiction."
That seriousness, like the purported educational boost, is similarly burdened with actual financial reality. Though it's true that HB 480 sets aside 10 percent of revenue for gambling addiction services, that doesn't amount to much in the face of what is characterized by lawmakers as an "epidemic."
Given that legalized sports betting via the New Hampshire Lottery is projected to generate $7.5 million per year by 2021, 10 percent of this total (which is the total sports wagering revenue, as all such revenue – minus this earmark – is due to go towards education) works out to just $750,000.
Again, that's not nothing, but it's not remotely enough to offset the concerns of the "mental health" crowd. Provided, of course, that those concerns are legitimate.
Perhaps it would be enough of an argument to legalize sports wagering on the grounds that the activity is in high demand, that New Hampshire residents already wager via black- and gray-market avenues, and that those living in the state have agency to do as they please in a non-violent manner.
Still, at the end of the day, the specific arguments for or against New Hampshire sports betting probably don't matter much. There's no compelling reason for the state government to continue criminalizing the popular pastime, and even a small haul of revenue is better for the state than no haul at all. If the state can find a way to make it work economically on their side, all the better for everyone involved.