Is Sports Betting Legal In New Hampshire
New Hampshire is a strong state, like the granite it is so famous for pulling from the earth. It has a long history of strong people that have risen to fame from their humble beginnings. Founding fathers, war heroes, artists, scientists, just about every kind of professional imaginable has been represented in the state. But just because many great and successful people come from the state, that doesn't mean that residents of New Hampshire are all work and no play. Like any state, NH has its fair share of sports fans, and these sports fans are just as pumped up and excited for each week's games as fanatics in any other state. Despite not having any major teams to speak of, New Hampshire still has a larger percent of sports fans than most other states, most likely because of its location in the sports-crazy New England area. As a result, New Hampshire is also one of the states with the most residents interested in sports betting. Information on sports betting is sparse, though, and that is why we wrote this page – to inform interested New Hampshire residents about the legality and accessibility of sports betting.
Simply put, sports betting in New Hampshire is legal. That said, there are limitations to keep in mind. HB 480 was signed into law in 2019 and with it came the ability to bet on sports in person and online. However, land-based sports betting can only occur in counties that approved it on their local ballot. To add to that, only 10 retail locations can exist in the entire state. When it comes to online sports betting in NH, only one online sportsbook based can operate inside of NH borders. Because of these limitations, sports bettors are often drawn back to the internationally-regulated online sportsbooks that have served them for over two decades. These sites are also a safe and legal alternative to what NH is currently offering.
Land-Based Sports Betting in New Hampshire:
Land-based sports betting in New Hampshire is now currently operating but only in sel ect locations. Charitable casinos in Manchester and in Seabrook have opened their own DraftKings branded retail sportsbook. Other locations are expected to pop up in the near future but there is no telling which venue will start accepting sports bets next. There are a total of 10 venues that can offer land-based sports betting and only seven cities that approved land-based sports betting. It all comes down to whether or not they're willing to pay the licensing fees.
Legal Online Sports Betting in New Hampshire:
All other options notwithstanding, there is one easy, accessible, safe, legal way to wager on sports in NH: Just use the Internet! You can use DraftKings, but they are limited to what they can offer and often incur weighted odds because everyone in NH is betting on the same teams. Because the state doesn't criminalize bettors and only has jurisdiction on activities within its own borders (which is the same situation for the federal government, too), if you use an overseas sportsbook, you can actually bet whenever you want, for real money! This is the case even if you happen to drive outside of the borders. These offshore sportsbooks are not beholden to any US laws of any kind, and because those same laws allow individual bettors to place wagers wherever they wish, the transaction is 100% lawful and beyond reproach. Unless you bet on the Mets or something. For God's sake, don't bet on the Mets!
Online sports betting is not only safe and legal, it can be done fr om pretty much anywhere in the US – not just in New Hampshire. The practice has been around since the early 1990s, and an estimated 100,000 NH residents use these sites to wager on their favorite teams and players every year. In general, reputable online betting sites have strived to offer experiences superior to those found at land-based sportsbooks, and they have succeeded when it comes to the options and odds on their boards. The only time you'll have more enjoyment at a land-based sports betting lounge is if you're meeting up with friends to watch and bet on a particularly big game or if you intend to also take in the associated casino festivities at the venue in question. Sports betting in New Hampshire is no longer the forbidden fruit it used to be. Now, it's just fresh, ripe fruit, ready to be picked and enjoyed year-round!
Bovada Sportsbook - Full Casino And Poker Room To Go With An Awesome Book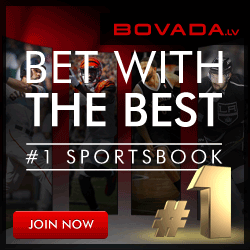 The big question for many New Hampshire residents when online sports betting is mentioned is where in the world they can actually go to bet online. Well, the quick answer is Bovada. (Bovada, incidentally, is also the long answer, as you can see by reading on.) Bovada is an old site with even older management, with many members of its team playing a critical part in the actual birth of Internet sports betting itself back in the 90s. Bovada has worked hard to show its age, too, which it does with expertly crafted lines and top-value odds for more than two dozen different sports worldwide and over 1000 daily wagers of all types. However, Bovada is also the most state-of-the-art site around, with an award-winning desktop and mobile interface that makes picking and sorting your bets a breeze. Plus, all the basic tasks a sportsbook necessitates are super easy at Bovada.
For instance, one of the most important parts of any betting site is the ability to quickly and easily deposit money onto the site in order to start betting. Bovada has streamlined this part of its site so that new bettors aren't overwhelmed by all the different ways they can deposit. Bovada uses only the most common, high-success methods, like credit cards, debit cards, and cryptocurrencies. And regardless of how you choose to fund your account, Bovada will also give new New Hampshire bettors a bonus of 50% on their first deposits. This is good for up to $250 in free plays, and it comes with the wagering industry's lowest rollover requirement of just 5X. For both beginners and old hats, Bovada is the best betting site around.
Top New Hampshire Sports Betting Sites
Rank
Online Sportsbooks
Bonuses Offered
Rating
US Players?
Play Now!





What's The Bottom Line? Will I Get In Trouble For Betting On Sports?
New Hampshire is a state of greats. Great people, great history, and now a great way to liven up an already wildly popular pastime. Sports aren't for everyone, and therefore sports betting isn't for everyone, either. But any sports fan can attest that nothing is more fun than the thrill of competition. With sports betting, it isn't just your team that is competing, it is you yourself! You are calling the shots and making the plays that could make you the big winner, the hometown hero. Making money while so competing is just a nice little perk that comes with the fun that is sports betting. If you use a reliable, reputable offshore sports betting site or a sports betting platform licensed by the state, you will never get into any trouble – legal or otherwise – by wagering on your sports of choice.