New Hampshire is suing over new Department of Justice interpretation of the Wire Act.
New Interpretation could cost New Hampshire $90 million a year in revenue.
The lawsuit may create a path to eliminate the federal law.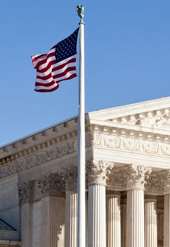 CONCORD, N.H. – A federal court heard a case on Thursday from New Hampshire who is suing the U.S. Department of Justice over their recent interpretation of the Wire Act.
New Wire Act Interpretation Spells Trouble For New Hampshire
The DOJ has changed the interpretation of the Wire Act back in January earlier this year. Before, the DOJ said that the Wire Act does not allow for sports betting across state lines. Now it has been interpreted that the Wire Act includes all forms of gambling.
That means that online poker and lottery tickets sales across state lines are now under the scrutiny of the federal law. This has caused a great number of concerns to rise up in New Hampshire.
The New Hampshire Lottery Commission said that this will actually criminalize their employees because they are selling lottery tickets outside of the state. Many jobs could be lost over this new ruling. Not only that, but this will cost the state a lot of money. The Lottery Commission said that the state will lose over $90 million a year because of this.
This has led the New Hampshire Lottery Commission to sue the DOJ to protect their employees and future profits. The lottery wants to make sure they won't have to completely shut down thanks to the Wire Act.
Possibility To Remove Wire Act
Another factor that made New Hampshire sue the DOJ is that the state is gearing up to legalize sports betting. The sports betting bill NH SB 310 is being considered to legalize sports betting in the state. This bill would allow the state lottery to regulate sports betting in New Hampshire.
This lawsuit has very similar connotations that the New Jersey sports betting case had. New Jersey fought against the sports leagues over the Professional and Amateur Sports Protection Act (PASPA) and it was eventually ruled that PASPA was unconstitutional which led it to be overturned.
New Hampshire is likely hoping for a similar result. Removing the Wire Act could allow for sports betting to spread all over the country even faster than removing PASPA did. Michigan, New Jersey, and other states have filed behind New Hampshire in support of their lawsuit.
It is unclear what is going to happen to New Hampshire sports betting with this lawsuit. There are a lot of different scenarios that could happen. One is the new interpretation is upheld and New Hampshire tries to move to the Supreme Court. There is also the chance that the interpretation is struck down but the Wire Act is kept. The best scenario for sports betting is the complete overturning of the Wire Act.